What Are Personal Goals?
Personal goals are defined as the specific objectives you personally want to achieve within a certain amount of time. Personal goals may be categorized as health, financial, personal development, or relationships. These goals are either short-term or long-term and provide a clear direction with a definite timeline.
List Of Goals to Set for Yourself
Here is a List of the 10 Best Goals to Set for Yourself:
Expand Your Mindset
Sharpen Your Mental Clarity
Strengthen Self-Identity
Practice Gratitude
Seek Mentorship
Travel the World
Live Your Dreams
Write a Book
Achieve Financial Independence
Become a Leader
Everyone's goals should be tailored to their own personal lives, but this is a great list of the best goals to set for yourself. Use this list as the starting point to kick off the ideas of what you want for yourself. There are no limitations of what you can do in life, so use this list to get the ball rolling on the actions you need to take.
Be bold and daring when setting your goals. These goals should stretch you beyond your current state. Never limit your future goals based on the limitations you have today. Set your goals so large they actually scare you. You should consider these goals as your mold for the future. They will determine what you do with your life, so choose wisely!
Personal SMART Goals Examples
Personal SMART Goals are specific, measurable, attainable, relevant, and time-based.
Specific: Save $10,000 in Account Ending -1002
Measurable: Set aside $1,000 each month
Attainable: Increase income by $500 per month
Relevant: Associate with higher-income individuals
Time-Based: Save $10,000 By December 31st, 2022
Create goals that are clearly defined with regular checkpoints. These goals are the foundation for your future and should be attainable with written deadlines. Read these personal SMART goals daily and review progress weekly.
Clear and specific goals with written deadlines are substantially more powerful than "New Year's Resolutions" that are set one time and never looked at again. Maintain a regular and frequent schedule to measure progress and review results. Consistency and frequency are key!
What Are Your Top 3 Personal Goals?
Write 7 Best Selling Books
Speak on Stage to 10,000 People
Financial Freedom for 5 Generations
Set personal goals that expand beyond your comfort zone. Don't limit your future self based on your current situation. These goals should frighten you and stretch your limits. If these goals don't move your spirit, then they are not big enough for who you want to become. Next, assign checkpoints, actionable steps, and clear deadlines. Move toward these goals with daily actions and review progress frequently.
You have greatness within you. Take these goals and bring them to life. Just imagine where you could be in 10 years by setting these goals for yourself today and holding yourself accountable. Set your aim 10 times larger than you would normally calibrate your targets. To have more in life, you must become more. Set your goals in alignment with what you want. Lastly, make sure to align your daily habits with your massive goals.
Personal Goals Examples List
Exude Ultimate Confidence
Develop High Levels of Empathy
Keep a Gratitude Journal
Use Fear as Fuel
Focus on the Solution, Not the Problem
Fill Your Life With Optimism and Positivity
Find a Mentor or Life Coach
Appreciate the Small Things in Life
Work Hard for What You Want
Learn From Your Mistakes and Failures
These personal goals examples will create a foundation for success. These goals are important for your personal life, health, and well-being. If you don't feel good physically or mentally, then how can you be productive in other areas of your life? These personal goals examples will allow you to thrive and live a healthy lifestyle that will last a lifetime!
Start with the small actions first and build a solid set of habits. Your habits will compound daily into massive results. Think about your actions 3 months from now and make today the first of many steps forward towards greater success. Your future is determined by the actions you take today. Act accordingly to create the life you want for tomorrow!
Some of My Favorite Personal Goals Examples
Never Procrastinate, Take Action Now
Lead Bravely, Others Will Follow
Stop Making Excuses, Start Making Progress
Manage Your Money Carefully
Think Bigger Thoughts
Laugh Often and Smile More
Enjoy Life to the Fullest
Be Selfless in Your Actions, Not Just Your Words
Nurture Relationships Daily
Take Massive Action for Massive Results
These are definitely some of my personal favorite personal goals examples. Keep these goals top of mind. Be responsible for your own actions by taking accountability! Take responsibility so that you have the power to mold your life into the shape you desire. Take action today!
Learn to manage stress. Stress affects your health and well-being in a negative way. Create more balance in your life by living a lifestyle that you enjoy. Remove as much clutter from your schedule as possible so that you can relax and have fun! Your mind will feel refreshed when there is room for positive thoughts, family time, and relaxation. You owe it to yourself to reach the next level in life. Stop holding back and start right now!
Life Goals Examples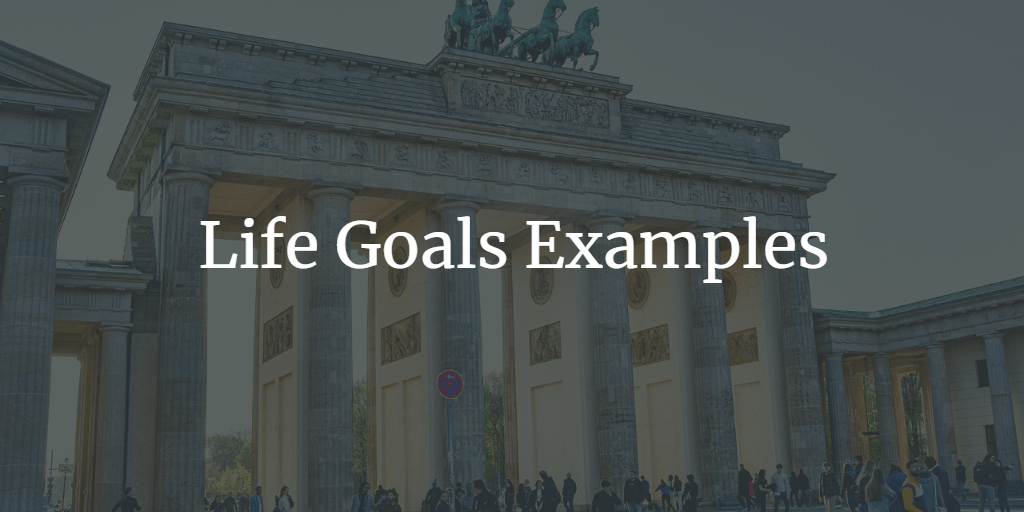 Forgive Those Who Hurt You
Build a Future to Be Proud Of
Master Public Speaking
Exercise Courageous Faith
Generously Help Others
Set life goals that you'll be proud to achieve. Focus on setting goals for who you become in the process. Never set goals for the materialistic items you might obtain, always set goals for the aspects of your life that matter most to you. These could be family, health, happiness, spirituality, etc. Goals should never be superficial or materialistic; they must reflect who you are as a person and what's important in your life.
You have the power to change your direction in life at any time. You may not be able to change your destination overnight, but you can change your direction at any time. Plus, your direction determines your destination, therefore you have the power to revolutionize your life with the right daily changes. Align your daily habits with your long-term goals. You can achieve anything you want in life if you align your daily habits to match.
Quotes About Personal Goals Examples
"Success is steady progress toward one's personal goals."

– Jim Rohn
"If you set your goals ridiculously high and it's a failure, you will fail above everyone else's success."
"When it is obvious that the goals cannot be reached, don't adjust the goals, adjust the action steps.
"If you want to be happy, set a goal that commands your thoughts, liberates your energy and inspires your hopes."
"Our goals can only be reached through a vehicle of a plan, in which we must fervently believe, and upon which we must vigorously act. There is no other route to success."
I personally wish you achieve all of your personal goals. These personal goals examples should help you get started on the right foot. I hope you found these helpful, and if you enjoyed this article leave a comment below, share with 2 friends that would find this valuable, and use the social media share buttons at the top. I appreciate you for reading this until the end. I'll talk to you soon and look forward to hearing from you in the comments.
Make Today Count!